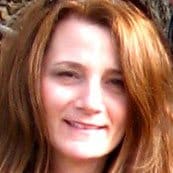 "My name is Vicki Baker. I first learned about OCA through a radio advertisement. One of my children brought it to my attention and said he was interested in the school. I looked up the website and called to get as much information as possible. I was impressed from the start!
I first enrolled my youngest son in kindergarten. From the day we received his books to the first day of school, I loved it! Everything was easy to follow, and we felt like we were welcomed with open arms. I had many questions and felt like I could get the answers from the teachers or fellow parents right away. I found the curriculum to be challenging and exciting for my son. He looked forward to learning something new each day!

I have to say that I love being able to give my children the opportunity to succeed with OCA!

— Vicki
By the end of the first year with OCA, we had made the decision to pull my other three children out of the middle and high schools they were attending. I had worked as a volunteer in our school district for more than nine years doing various things, including serving on the PTO board. I always felt like that school was going in a direction I was not happy with. I saw more and more violence in the schools and not much correction. The curriculum was not challenging enough for any of my children, so I decided it was not the best decision to keep them enrolled in our district any longer.
Once they were all with OCA, I was really able to see a difference in how much more they seemed to learn with OCA compared with the school district they were enrolled in previously. With OCA, each day was a new challenge for them, and they got to work at their own pace. They had many more Honors classes to choose from, and advanced classes as well.
In short, everything about this program works for our family. The schedule is organized, easy to follow, and challenging. I like the one-on-one attention each of my children gets from the teachers when it is needed. I like the open communication between the teachers and the parents. I like the feedback I get when my children have assignments graded, and the fact that I can look up their grades in each class every day if I want to see how they are doing."