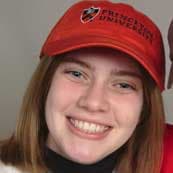 Her parents enrolled her and her older brother, Murray, in 2013, when they came to the realization that their children needed to be challenged more academically. Attending an online school provided Clare and Murray the flexibility and independence to work at their own pace and to spend more time on specific subjects when they wanted to learn more.
For Clare, who had been in the gifted program since the fourth grade, the online platform enabled her to challenge herself. Moreover, she learned how to prioritize her work and manage her schedule, which she felt would prepare her for college—and it has. Since 2016, Clare has participated in the College Credit Plus program and has earned 75 semester credit hours at four different colleges/universities: Washington University in St. Louis, Case Western Reserve University, Cleveland State University, and Cuyahoga Community College.
Through tutoring her classmates at OCA in math and as a lead Latin tutor at Cleveland State, Clare got a great deal of satisfaction from helping others learn. Two years ago she was hired at Cleveland State's tutoring center as a structured learning assistance (SLA) leader for freshman English, where she prepared lesson plans, facilitated discussions, and assigned group work. This passion for learning inspires Clare to one day be a college professor.
A member of the National Honor Society and a previous news editor and writer for the Connections Academy newsletter, The Monitor, Clare said she enjoyed the different opportunities the school has given her to interact with other students.
Clare recently received word that she has been accepted into Princeton. Because her family has a history of serving in the military, Clare plans to defer her enrollment to serve in the army. Murray, who graduated from OCA in 2018, is currently a member of Ohio's National Guard and is pursuing a degree in engineering at the Ohio State University.