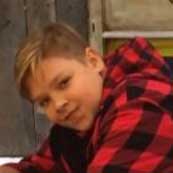 On the recommendation of Caleb's physical therapist whose children attended online schools, the Nelsons looked into and discovered Ohio Connections Academy. They immediately liked the flexibility that enabled Caleb to work at his own pace.
Caleb was always a strong, independent learner, so he could accelerate through the material or slow down if he needed more time to research the material to comprehend it. The schedule also enabled him to continue his speech and physical therapy. For most children who are new to the online platform, they need time to adjust. Aimee said the teachers and counselors at OCA made the transition very easy.
Before the accident, Caleb was a gifted student. So after more than a year of recovery, Caleb is looking forward to starting honors courses at OCA.
At his previous school, Caleb discovered a passion for musical theater in the seventh grade when he was invited to participate in the local high school's production of Mary Poppins. After he enrolled in OCA, Aimee wanted him to continue to have the opportunity to perform and socialize with his peers, so she signed Caleb up for CATCO, a local professional theater company, where he performed in the CATCO Is Kids' production of The Throne of Oz as the Scarecrow.