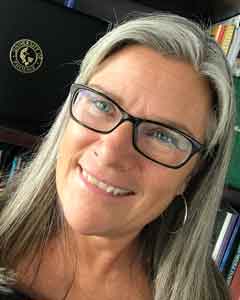 Karen Haines has been an educator for over twenty-five years. Mrs. Haines has a Bachelor's degree in Human Development and Family Studies with a minor in Anthropology from Colorado State University. She completed her elementary teaching certification coursework from Metropolitan State College of Denver the year she graduated from CSU. She began her career as an elementary and middle school math teacher, while also working as a consultant for the Colorado Department of Education Migrant Program.
Mrs. Haines went on to get a Master's degree in Educational Administration and Supervision. Her administrative career started when she was hired to be a Principal/Teacher in a bush school (only accessible by small aircraft) located on the confluence of the Koyukuk and Yukon rivers in Alaska. Mrs. Haines taught kindergarten through fifth grade during the day, and completed her administrative duties after the children were dismissed. She then took a position within the same district, the Yukon-Koyukuk School District in Fairbanks, as the Director of State and Federal Programs. She served eleven rural village schools, covering 65,000 square miles.
Mrs. Haines returned to Colorado and was an administrator for eight years with the Estes Park School District R-3 before moving to Eagle, Idaho to assist her parents. She has been the school leader at Inspire Connections Academy for over 5 years and is thrilled to have spearheaded the development of the first Connections Academy school for at-risk students, opening in August this year.
Mrs. Haines has a passion for helping students, especially those going through significant challenges. She genuinely cares for and loves every student and is focused on supporting each individual's opportunities to develop their skills and master concepts.
She is frequently heard saying that being the school leader at Inspire Connections Academy has been the best position of her career. It is because she loves seeing the difference her amazing team makes in the lives of students each and every day.
Every Student, Every Day!